Top Ten Supernatural Things On My Bookish Bucket List
1. To actually read all those sequels I keep saying I need to read. Instead of putting it off for new shiny books which are nearly always part of a new series.
2. To stop obsessively watching and stressing over Game Of Thrones long enough to read the damn books.
3. To go on holiday and... not bring... too many books back. Maybe just one or two.
4. To stop looking at NetGalley. It's beautiful and shiny and magical and I don't need it.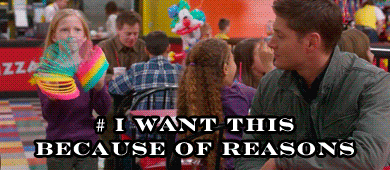 5.To go and see The Maze Runner, the movie I have been waiting for for about four freaking years. I have my dream cast and everything, it's going to be so beautiful.

6. It's shallow but I really want 100 bloglovin followers. Because followers are a beautiful thing.

7. I'd also like to read 100 books this year. Completely doable if I stop doing other things. Like watching Supernatural.

8. I've run out of ideas so here's a gif of Castiel talking about my people skills.

9. So... this is awkward... er... did you see the episode with Snooki? It was... interesting.

10. I'll use number ten to wrap up this post. Don't forget to leave your links so I can visit you and happy blog hopping and stuff!